---
30th January – this was a five week month so on the fifth Friday we went for a meal at the Meadowlark in Shoebury.  There were 20 of us attending and we had a really nice time.  The meal was good and not expensive and the desert was delicious!!  Sue was the winner of the bunch of roses.
Our next 5 week month is April – suggestions please for what you would like to do on Thursday 30th April
23rd January – Lisa Bartlett talks to us about 'Hello Life'  a Southend Essex Advocacy Services project which brings people together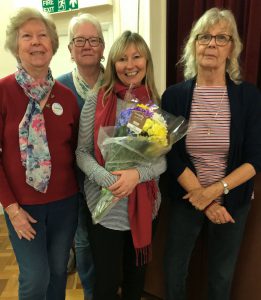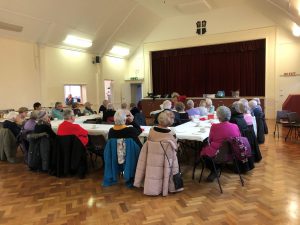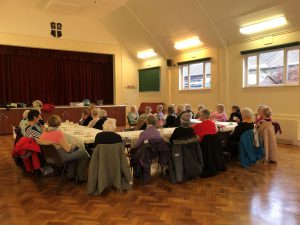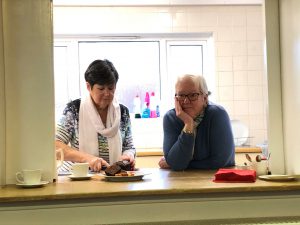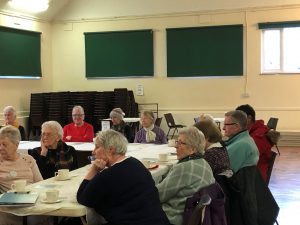 9th January 2020 – our very own member Maureen tells us about her life with her husband who she met at infant school aged 5 and spent her whole life with.  Maureen will bring along some models of homes they lived in and the church they were married in.  Sounds like a wonderful and interesting talk and life.
Sorry I forgot to take a picture of Maureen!
2019 Events
We had a brilliant Christmas party with 36 members attending.  Maureen dished up a beautiful hot and cold buffet with the help of Jean, Sandra, Sally and Georgean, John supplied the music, Norman the monologues and we had a few games etc organised by Sandra, Georgean and myself.  Everyone pitched in to help and our husbands got the tables out.  Apologies if I have missed anyone out!!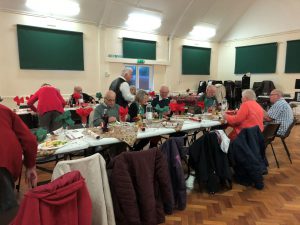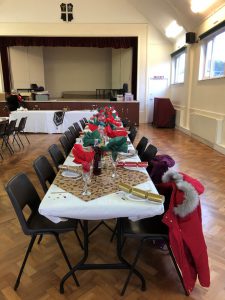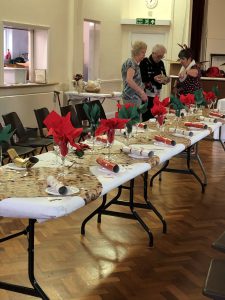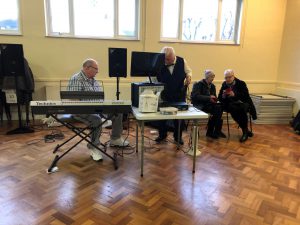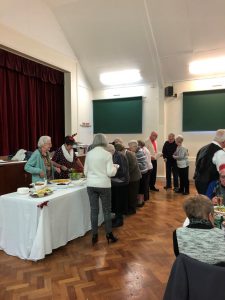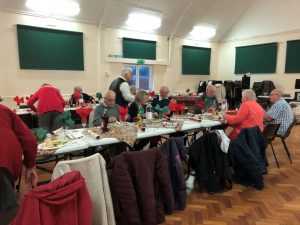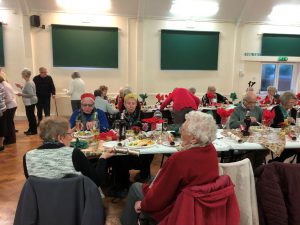 September 2019
During the 26th September meeting we are hoping to have a keep fit teacher Kerry who will be explaining what activities they have for the Over 50s and possibly give us a Taster Session that we can do at home to keep ourselves flexible. They have a new class starting at the Baptist Church Thorpe Bay on Friday 10:30am.
Kerry came and we had a really good seated workout – which everyone joined in with and enjoyed
Come along and join us – everyone welcome
September 2019
We will be having Lin from the Southend Age Concern coming at 2:30pm on Thursday 12th September  to tell us all about their services and the new things that are happening this year.  A really exciting year for them with a new Community Club starting up in Hinguar Street Shoeburyness which will be held the first two Wednesdays of the month starting on 4th September.  Please come along and join our members and make some friends.
Update:  Lin came and did a talk and very informative it was too.
August/July 2019
Hi all,
Please excuse the silence!  The group is flourishing but I have been so busy I haven't had time to update this year.  But hopefully will get back on track now.
We have had a lovely year so far with quite a few new members and quite a few speakers including the lady from Piertalk the Southend based social group.
We have just had our Strawberry Tea where we raised in excess of £865 for St Augustine's church extension project.  Please see a selection of photos below. Everyone worked extremely hard but hopefully we all had fun too!
Future speakers will include a Psychologist (daughter of one of our members) and hopefully a retired police detective (a son in law of one of our members).  If you wish to come and speak at one of our meetings and you are cheap and interesting please call 07969 099396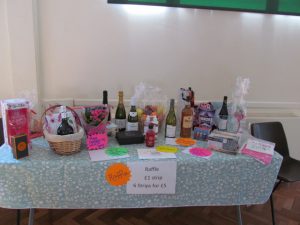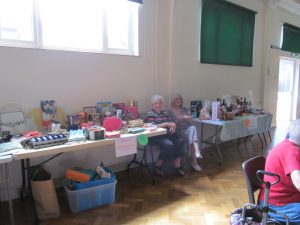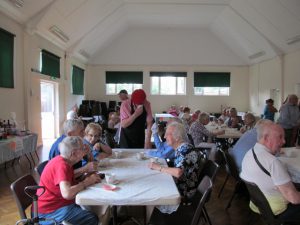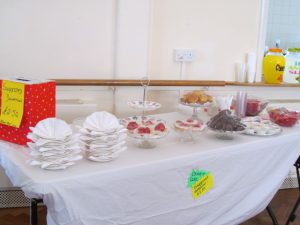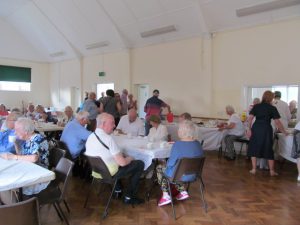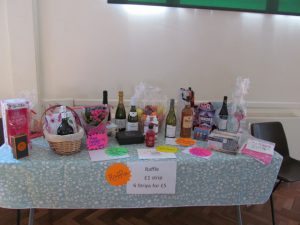 Talk by April – Diaries of her Father
April gave us a beautiful talk about her father's time in WW1 which he wrote about in his diaries.  This was such an insight into a young man's experiences.  He was wounded shortly after getting sent to the front line and became one of the most expensive army recruits as he was pensioned out after numerous operations.
See below April giving her talk to the group and using our microphone for the first time.  Thank you April for sharing your memories with us
.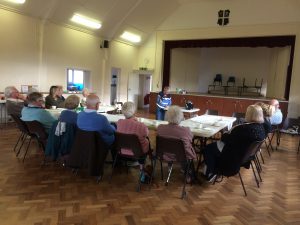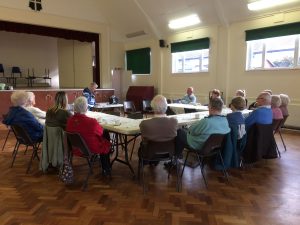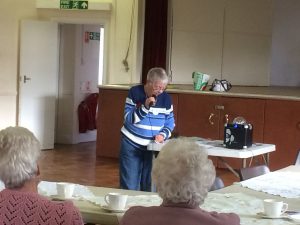 2018 Events
---
Due to a double booking we held our Christmas meeting in the church and John (our musical member) brought his electric organ and we had a Christmas singalong – which I think well down well.  Norman organised several quizzes and Sandra brought along an early 50s picture game.  Georgean supplied the open rolls which went down a storm along with the usual refreshments.  What a lovely bunch of members we have – we all get on so well and support each other brilliantly.  Thank you all so much for coming every fortnight and thanks to Sandra, Sally, Maureen and Georgean for your refreshments and your friendship.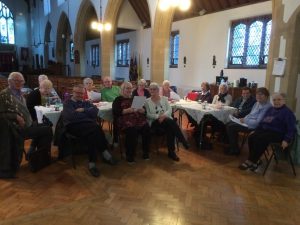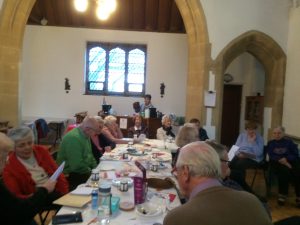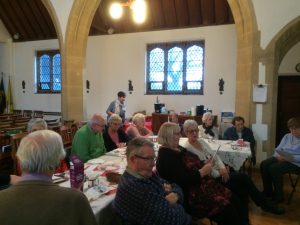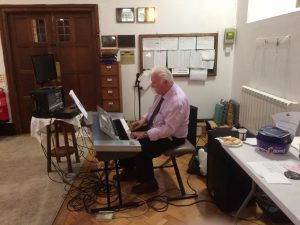 Fire Brigade Talk 
We also had an unexpected talk from the fire brigade this week who turned up in their 2 fire engines!
We were told all about the fire detectors and if you need one or yours is old then you just need to give them a call and they will come and fit them for you – how good is that.
We were also warned about leaving TVs, washing machines etc on over night and shutting internal doors, where possible, during the night.
We have leaflets should anyone want/need one and I will put their telephone number on the website in case you need it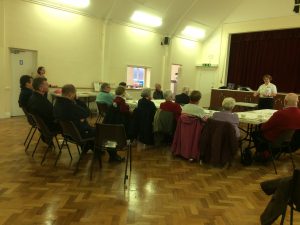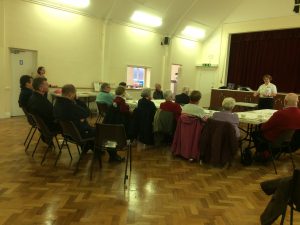 Nigel talks about Old Leigh
This week meeting on Thursday 13th September we have the pleasure of meeting Nigel (a volunteer at Southend hospital in the Bereavement Suite) who will be giving us a talk all about Leigh on Sea.  Nigel does this talk, I believe, at local churches and meeting places and it is very well received.  We are looking forward to seeing pictures and  hearing stories about 'old' Leigh.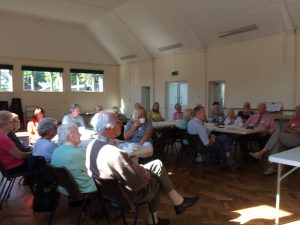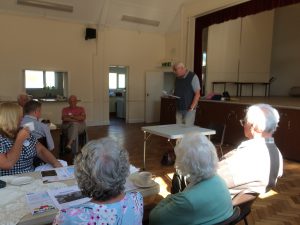 ---
On the 22nd November a member of the Care Co-ordination Team (Juliette) talked to us about the services which are available to us through-out the NHS and community agencies which we don't always know about.  This was such an informative talk and Juliette was full of useful information.  It seems that whatever your care problem is they can either help or know someone who can.  The waiting time for a response, if you call them, is only a week or so and anyone over 18 can get help, although if you care for anyone under 18 you can still phone and they will help.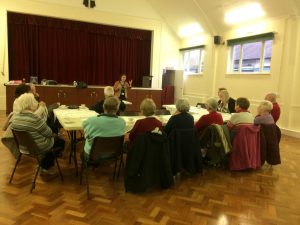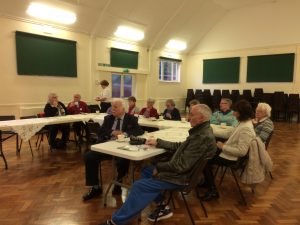 Mama Mia
Yes we are going to see Mama Mia 2 the long awaited sequel.  I know a few of the ladies have been looking forward to this film being released – and I, as Pierce Brosnan's  No.1 fan,  will definitely be there.
Update:
Well we all enjoyed Mama Mia – I personally was sad that Pierce didn't sing but I think I stand alone with that statement!
---
Brewers Fayre
A group of us went to the Brewers Fayre along the seafront and had a meal on 31st August but unfortunately the meal was a bit late.  This was partly due to me not seeing the parking meter and telling poor Sue that she's got to pay using her mobile phone – we did eventually find the meter and put our £1 in but by then we were 15 mins (at least) late for the meal ordering!  Then it took 45 mins to actually get served by which time everyone was starving.
But apart from that I think we all enjoyed it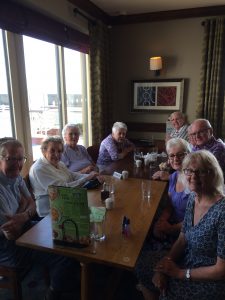 ---
Strawberry Tea
Date for you diary.. 9th August.   The bereavement group  will be hosting a Strawberry Tea which will include coffee, tea, squash and Scones, jam and cream or cake for (suggested donation) £2.50p.  All welcome – especially children!  The deputy mayor Cllr Ann Holland will be opening the party!
UPDATE:
Well the weather was pretty rubbish – in fact it rained all day but we had a good turnout of customers and volunteers and I think we all had a good time.  We raised a fantastic £503.00 for the Southend Maternity Ward which we handed over last week.  See a selection of photos below.
Sandra is making a photograph album of all that is happening within the group so come along to a meeting and have a look through it – see what we get up to,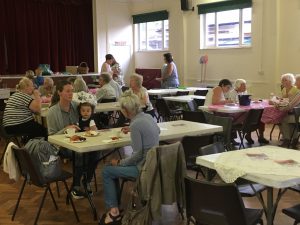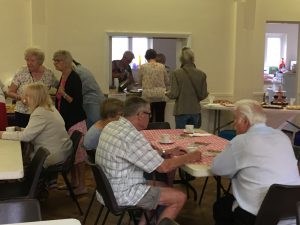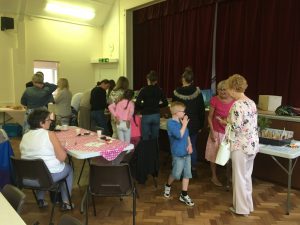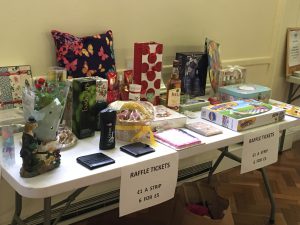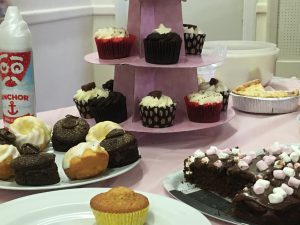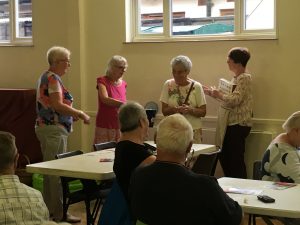 ---
Security talk by Linda the local PCSO
July 26th at 3pm Linda,  one of our local PCSOs,  will be sharing with us some safety hints and make us aware of the scams that are about at the moment.
Update:  Thank you PCSO Linda – this was a very interesting talk which we all appreciated.  We now have our purses on safety chains within our handbags, which although may sounds awkward, isn't! But is reassuring.
We now have our basic personal  information ie Doctor's details, medication, pets etc safely stored within a small plastic bottle and placed in the fridge.  Should anything happen to us indoors then the emergency  services will be able to access this vital information.
For any groups out there – you really should ask to have one of these talks – it's an eye opener!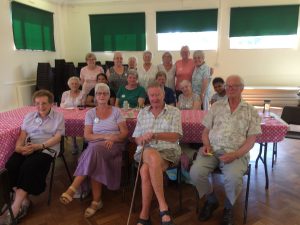 ---
Talk by John – Butler to the Queen
Smooth talker John gets to chat with one of our wonderful helpers Maureen
On the 12th July our 3pm talk was by John who was butler to the Queen.  This talk was so interesting poor John kept getting interrupted by people asking questions – but John took it all in his stride.  Thank you John for a truly interesting talk which gave us an insight to the royal family and just how kind and friendly  (mostly) they are,  especially the queen.
John brought along just a few of the gifts he received on foreign tours on the royal yacht Britannia and the  wonderful Christmas presents and he was given during his time in service.  Once again thank you John and please come back again soon!
Here are pictures taken with John and his memorabilia and two pictures of members of the group with some of  the volunteers (unfortunately Maureen was in the kitchen washing up).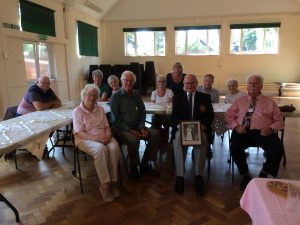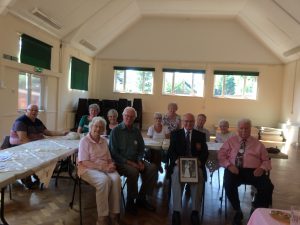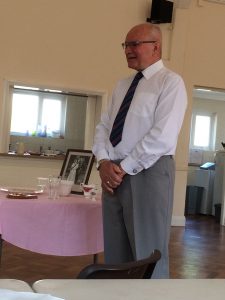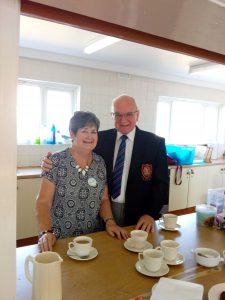 ---
Meal at Brewers Fayre followed by a nice tea of tea on Bobs balcony!
We went for a meal at the Brewers Fayre,  Premier Inn, Southend in June – just a few of us and afterwards Bob invited us back to his place for a cup of tea.  We had a beautiful view of the sea front at Thorpe Bay – lovely, thank you Bob.  Norman was a bit afraid of getting too much sun hence the 'Laurence of Arabia' look – very fetching!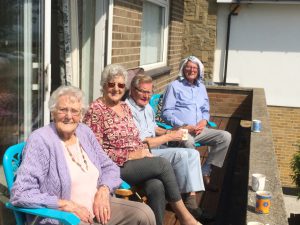 ---
Refugee from Belgium – Thursday 24th May
We are hoping to have a lovely lady called Lucette Smith from St Augustine's church giving us a talk about her journey from Belgium in WW2.  Talk starts about 3pm.
Update:  Lucette told us the story of how as a young girl with her family they left Belgium as the Germans were advancing towards the country.  They walked through France to reach England with very little clothing, food or shelter.  A very interesting, scary and moving time.  Thank you Lucette for sharing this with us
PATs
We were lucky e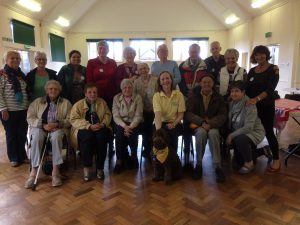 nough to have Claire Dean and Rolo (her poodle crossed with spaniel  dog) give us a talk on Thursday 26th April at 3pm.
Claire and Rolo regularly go into Southend Hospital where patients are allowed to stroke and pet the animals, they also visit care homes and children's reading groups.  The health benefits these visits have on the people of all ages with many different health problems is absolutely amazing.
Claire says "Please feel free to share these contacts and encourage anyone and everyone to follow Rolo. This will all help in raising awareness of Pets As Therapy and the RSPCA and what brilliant charities they are. People would also get to see some lovely photos of Rolo at work and at play!"  Please see below our photos taken during the talk.
Here are Rolo's contact details.
Instagram:    @pat.rolo
Twitter:          @PAT_Rolo7FB:
pat.rolo  Rolo the rescue therapy dog@Rolotherescuertherapydog
It is interesting to know that they are always on the look out for more volunteers and pets to join this scheme as there is a waiting list of places requesting visits – so why not see if your pet has what it takes to bring comfort and aid recovery to those in need!